The Owls Head Transportation Museum is a great stop near Rockland on a Maine road trip. From vintage cars to bicycle history, Owls Head has fascinating exhibits for all ages.
A bit of a hidden gem in Mid-Coast Maine, the Owls Head Transportation Museum is a great visit for all ages A collection of vintage cars, trucks, carriages, planes and more, you'll be surprised that this place exists in a small coastal town. Very near the Owls Head Lighthouse (one of the easiest lighthouses to visit in Maine) this is a great stop for all ages as you near Rockland on your Maine road trip.
About the Owls Head Transportation Museum
Car and plane enthusiasts should put this on their bucket list! The Owls Head Transportation Museum (OHTM) is a nonprofit educational organization. Its mission is to collect, preserve, exhibit and operate pre-1940 aircraft, ground vehicles, engines and related technologies significant to the evolution of transportation for the purpose of education. This enthusiast collection is full of historic and custom originals.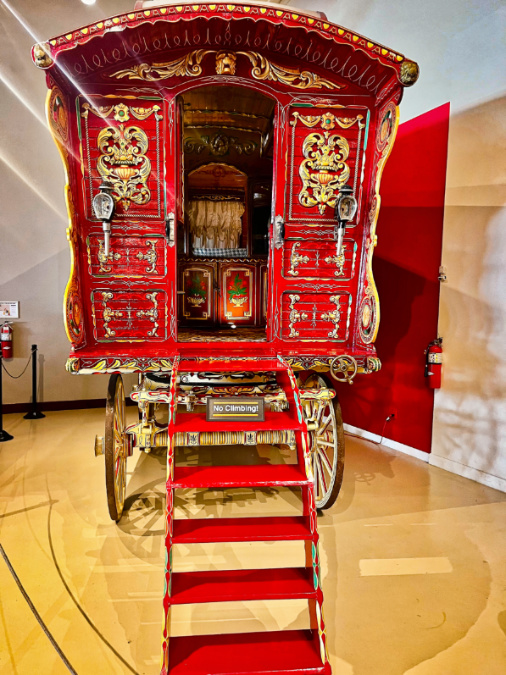 The OHTM Rotating Exhibits
Rotating Exhibits keep you coming back, some recent exhibits we enjoyed during our visit:
More Than a Century Ago: It was 1903 when the Wright brothers succeeded in making the first controlled, powered, heavier-than-air flight in what by today's standards looks nothing like an airplane. Standing below a replica of these winged contraptions, you feel the power of delusional passion that these brothers had for flying and are astounded they survived the test flights of these flimsy hopeful creations!
Women Who Dare : These daring air divas pushed the limits of wings and wheels, beginning at the dawn of motorized transportation. These beautifully curated exhibit includes some of the fantastic costumes these daring females wore into the air.
Faster: The Quest for Speed: Mans never ceasing quest for power and speed fueled enduring innovations and passion for agility, performance and speed. From the first covered wagons pulled by horses to steam locomotion and every evolution of the cars we drive today with a few race cars in the mix. There is always something to inspire young minds as they learn how an industry grows and changes.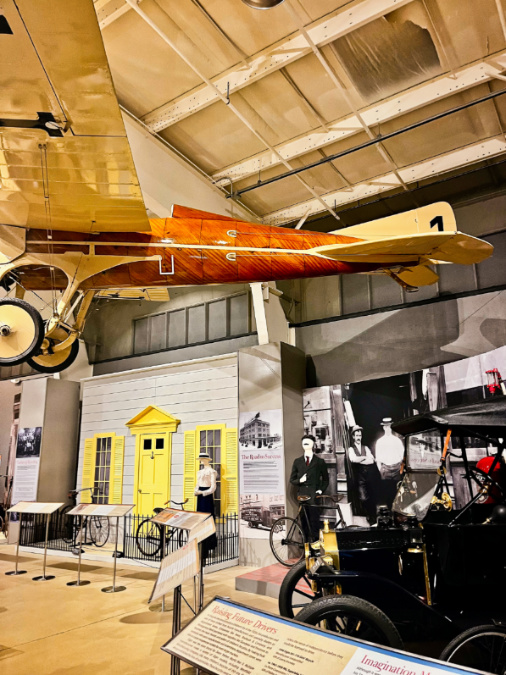 OHTM Events to Enjoy
While the yearly schedule may change over time there are a few annual events at the Owls Head Transportation Museum. The 2022 Events calendar includes:
Spring Roll-Out: Celebrating the kick-off to the show season.
All American Meet: Classic American-made vehicles. Muscle cars with big engines and bold styles highlight this show.
Truck Show: Antique Truck, tractors and commercial and military vehicles, fun for the kid in all of us.
Wings & Wheels Spectacular: Iconic aerobatic acts from across the country fly in for this fantastic air show. A casual car show goes on in the lot below as museum members and family bring their antique cars to show off as they enjoy a picnic under the airshow.
The Annual Car Auction, Motorcycle Festival and Foreign Auto Festival are focused on special interest vehicle groups. Don't know what to get that car enthusiast that has everything? Look no further than a day together at one of the Owls Head Transportation Museum's events.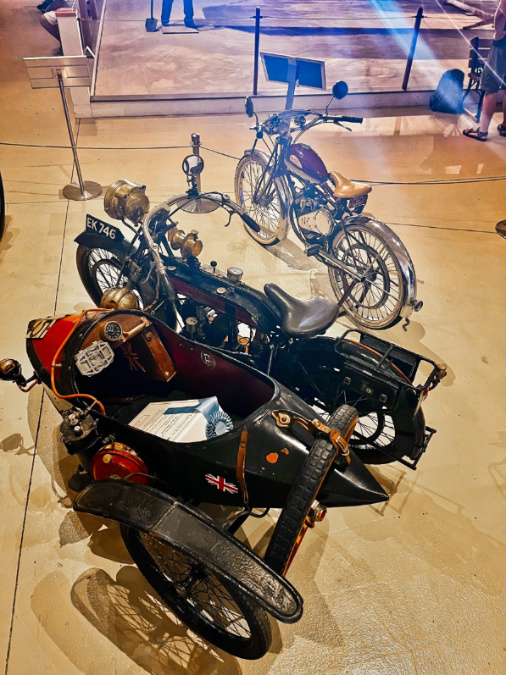 When to Visit Owls Head Transportation Museum / Hours of Operation
Even though much of Mid-Coast Maine shuts down or quiets down when summer is over, the Owls Head Transportation Museum is open year round. If you're looking for something to do on a cold winter day, it's the perfect activity everyone will enjoy.
Hours of operation: 10:00 am – 4:00 pm daily
Open year round, except on the following holidays: New Year's Day, Easter, Thanksgiving, Christmas
Admission to the OHTM
OHTM Members – Free
Membership is the best deal, OHTM is perfect for a Mid coast rainy day and the rotating exhibits bring members back over and over.
If you're not a member:
Adults – $14
Seniors (65+) – $12
US Active Military Members, Military Dependents and Veterans – Free
Kids & Youth (17 and under) – Free
Groups (of 20+) – $9
Admission rates vary during events. Groups must be scheduled in advance. Guides can be arranged for $50.
Where is Owls Head, Maine?
Owls Head is a part of the St George Peninsula, just south of Rockland, Maine. It's about 1.5 hours north of Portland and 2 hours southwest of Bar Harbor. It's the heart of Mid Coast Maine and you're going to love it!
More Things to do Near the OHTM
Besides the Owls Head Transportation Museum, nearby there is also an adorable mercantile, or you can bring a bike and tour around or drive out to the Owls Head Light, complete with a small gift shop full of all things lighthouse! You may want to grab a lobster roll at McLoons Lobster shack in Spruce head, or head into Rockland for dinner looking out towards the Rockland Breakwater Light.
Plan 1.5 to 2 hours for visiting the Owls Head Transportation Museum. It's an easy jaunt if you're staying in Rockland (we love the 250 Main Hotel) or is an easy stop if you're taking the scenic route on the way to Acadia NP and Downeast.