Just south of Portland, ME in the town of Saco is Funtown / Splashtown. This summer season amusement park is fun for the whole family and is a surprisingly good value. Tips for visiting and where to stay near Saco, ME.
Looking for some family fun? Funtown and Splashtown are in Saco south of Portland, Maine and close to Old Orchard beach. Open seasonally, we visited on their last day of the summer. Remember those old theme parks like The Seattle Center, fun and games, free parking, snacks and candy, this is all of that PLUS a fantastic water park!
We loved this affordable ($50/ both parks) mid sized, family fun park. Teacups, swings, pirate ship and wooden roller coasters and slides for all ages, no crowds, free parking and lockers. Arrive a little bit early to get a great parking spot, park opens at 11.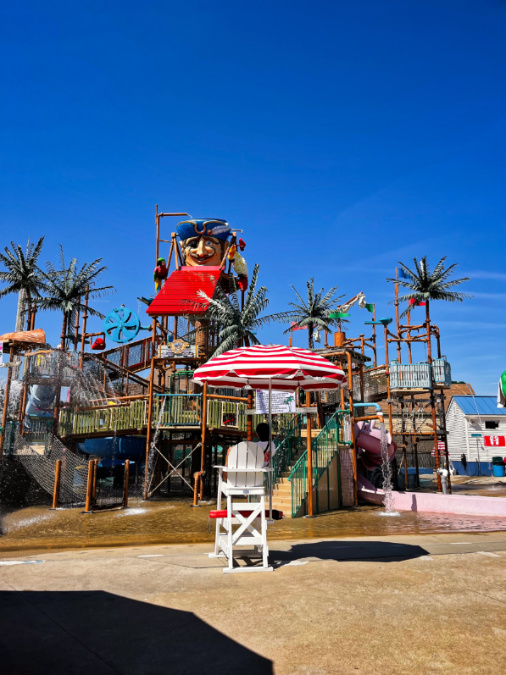 Planning a Day at Funtown / Splashtown in Saco
We chose to enjoy the Splashtown waterpark before going next-door to Funtown for rides. Splashtown offers lockers so you can bring your dry clothes and change to go next-door to Funtown however it's totally OK to go back-and-forth between the two as long as you have a shirt on go on the rides, we noticed many people were still wet from the water park.
The parking lot is nice and close as well so you can also leave her things in the car. We were visiting with 12 year olds and they could easily explore both parks on their own and feel safe. From Splashtown's snack bar in the center of the park you can see almost all of the slides and keep your eye on the kids well enjoying an (adult) beverage in a snack. are we all agreed that we really enjoyed the pirate ship with all of the water cannons and splash buckets.
Heading next-door to Funtown halfway through our visit, Excaliburis is the highlighted wooden roller coaster with drops and twists and turns. There's always a long line for the bumper cars and the Thunder Bolt ride, blasting fun music but they're worth it. There is a cute candy shop and a couple arcades where you get tickets to 'buy' trinkets with after you run out of coins.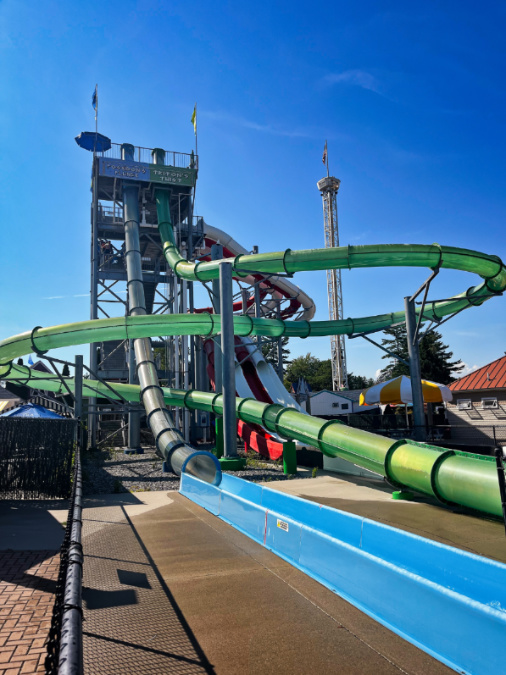 Need to Know to Visit Funtown / Splashtown Saco
Wearing a swim suit or waterproof dress for a day at Funtown / Splashtown is a great way to do these parks, but there are changing rooms to utilize too. Since you can easily go between parks and because lockers area available, bringing a change of clothes is easy and recommended. Also, water shoes or good flip-flops make the day easier on your feet.
Find more thing to do in South Coast Maine!
Food in Funtown and Splashtown
Funtown and Splashtown offers burgers, hotdogs, fries and some sandwiches and chips, as well as a cute little snack bar with adult beverages in the center of the water park.
It's easy to break away though, and it's recommended, especially if you're not from the area. We loved our pizzas and apps at Portland Pie Company in a cool old mill building in Biddeford, ME about 20 minutes from the parks. Biddeford is a nice town with lots of restaurants to choose from.
Where is Funtown / Splashtown?
Saco is about 25 minutes from downtown Portland, Maine. Plan to stay in Old Orchard Beach (5 miles from parks) for an easy getaway. There is another small theme park there and lots of souvenir shops, restaurants and places to stay along the beach.
Also, Biddeford, as mentioned, is nearby and is another wonderful place to stay or dine. You're never far away from another small town, and then Portland is also an option for where to stay for your visit to Funtown / Splashtown in Saco.
Cost of Funtown / Splashtown
The best deal is the Combo pass at $50 per person. If you want to only do one park, you can get passes separately at $34-39/ day at Splashtown, or only $34-$42 for Funtown alone. Free parking is available on the grass lot close to the entrance to both parks.
Dates and Hours of Operation
Given the nature of weather in coastal Maine, Funtown and Splashtown are NOT open year round. They are open Memorial Day to Labor Day, shutting down with the semi-official end of summer. During their operating season, they are open:
11:00 am – 5:00 pm for Splashtown
11:00 am – 6:00 pm for Funtown
We were very pleased with the ease of getting into the parks and onto the rides with not a ton of lines or waiting. We also loved the small /medium size of these parks for letting kids explore on their own as well which is very important part to growing competent young people.