Acadia National Park: Exploring the Coastal Waters and Coves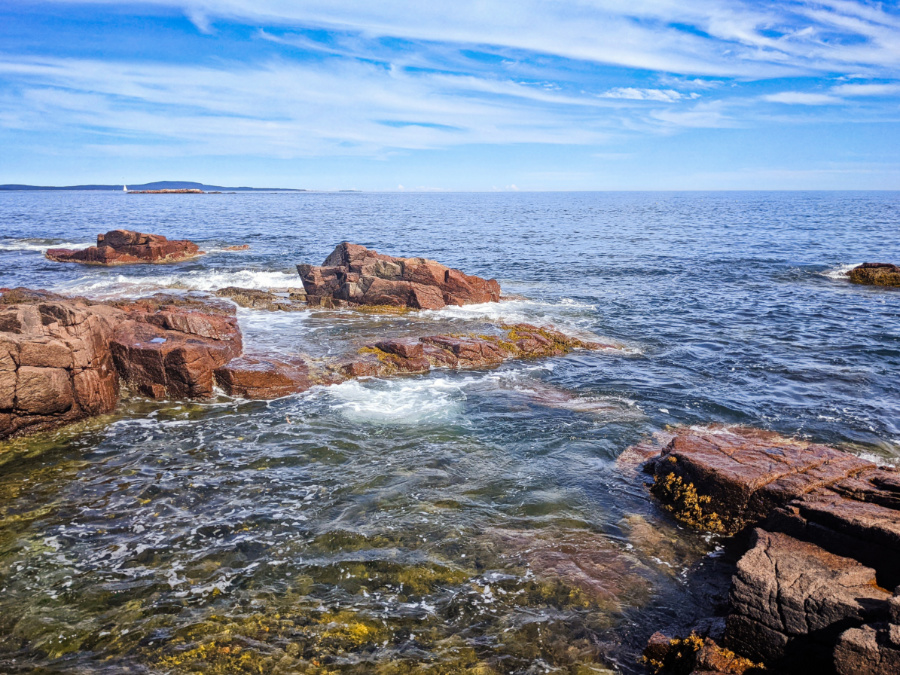 Exploring the waters around Acadia National Park is one of the best things to do. Whether you want to visit the beach or go kayaking, we've got all the ways to experience the coastal side of Acadia.
There aren't a lot of National Parks that are directly on the ocean, but the ones that are offer such a different sort of outdoors experience than landlocked ones. Acadia National Park along the water is beautiful and rugged, and there are lots of ways to explore the coastline.
Whether you're feeling adventurous and want to be on the water or if you're visiting Acadia NP with kids and just want to be by the water, you've got options! Keep in mind that being in the Northeast, from mid-autumn to late spring the weather is COLD and can be quite wet and windy, so as you plan to explore Acadia along the water, remember to consider the weather. There are lots of things to do in Acadia National Park, so pick what's right for the weather.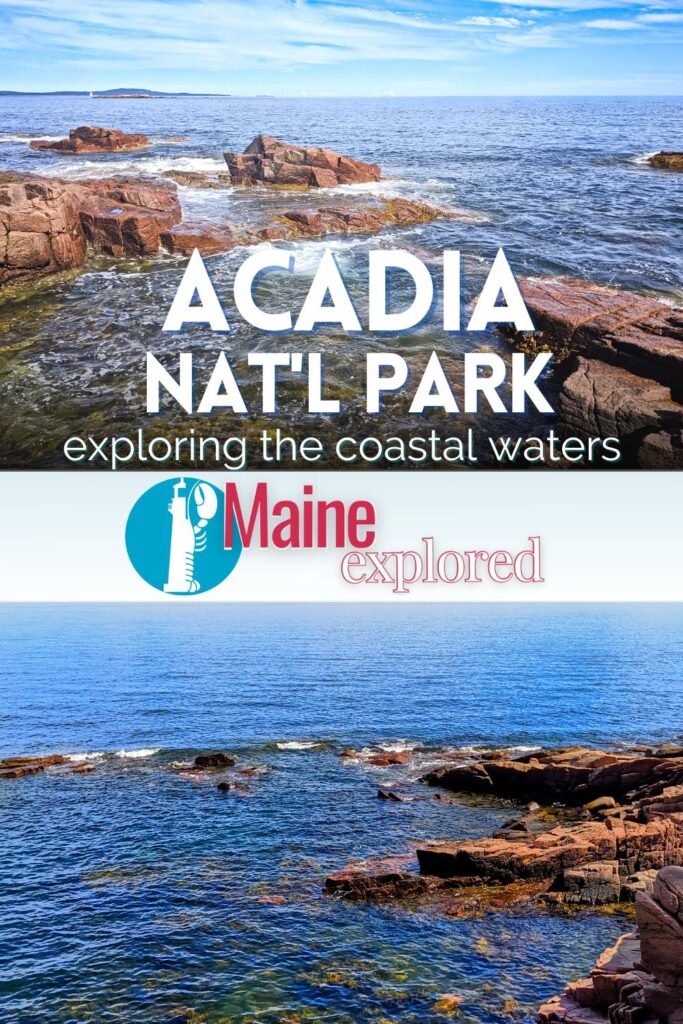 Things to Do on the Shore at Acadia
Whether you're visiting for one or several days, you're going to want to spend time by the water. The coves and tidal areas of Acadia National Park are absolutely beautiful, very reminiscent of the Olympic Peninsula of Washington. Here you can watch for wildlife
Visiting the Bass Harbor Lighthouse
One of my favorite things about visiting Maine is the number of lighthouses. Everywhere. And how fitting that Acadia National Park has a great one to visit! The Bass Harbor Lighthouse is located in the southwestern section of Mount Desert Island and it's relatively easy to visit. After driving the the adorable town of Southwest Harbor you'll come to a long dirt road that leads to Bass Harbor Light. Parking is limited, so you may have to wait to gain access to the parking area, but it's worth it.
The lighthouse is accessible from an easy path that takes you to the keepers quarters and light tower. You can get really close, which is nice, but it's not the iconic view of the Bass Harbor Lighthouse you expect to get. You have a little hike for that.
Head to the east end of the parking area to the trail into the woods. This short path leads to a staircase towards the water. Clamber across some rocks carefully and get down nearly to water level and you've got the epic view of the Bass Harbor Lighthouse like you've seen on postcards. It really is beautiful!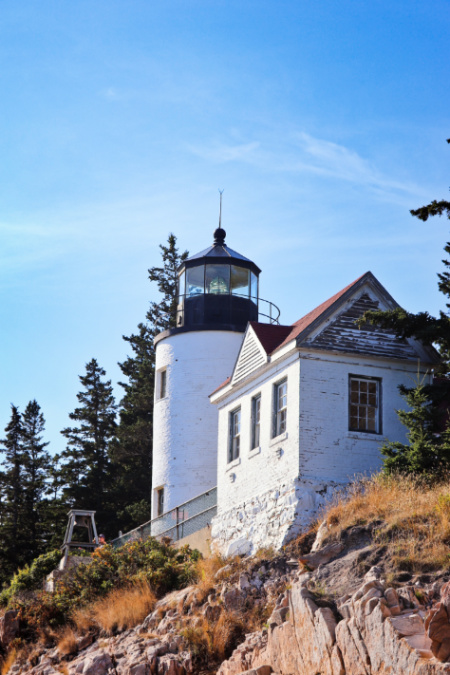 Tidepools and the Thunder Hole
As you do the Acadia National Park Scenic Drive, you'll have lots of opportunities to stop and explore the rocks and tidepools. While they may not be as full of life as Pacific Northwest tidepools or the pools at Cabrillo National Monument in San Diego, they are really cool and great for exploring.
One of the more unique places to get down to water level is at the Thunder Hole. Here the rocks and the water meet just perfectly in a small cove to form a sort of audio blast zone. The water rushes in at mid-tide and crashes into a hollow where the pressure from the air and the water make ocean thunder. There are stair and platforms to viewing. It's neat, but not epic like the Oregon's Coast's water features.
Less busy tidepool access can be found in the following areas (links are for the tide tables):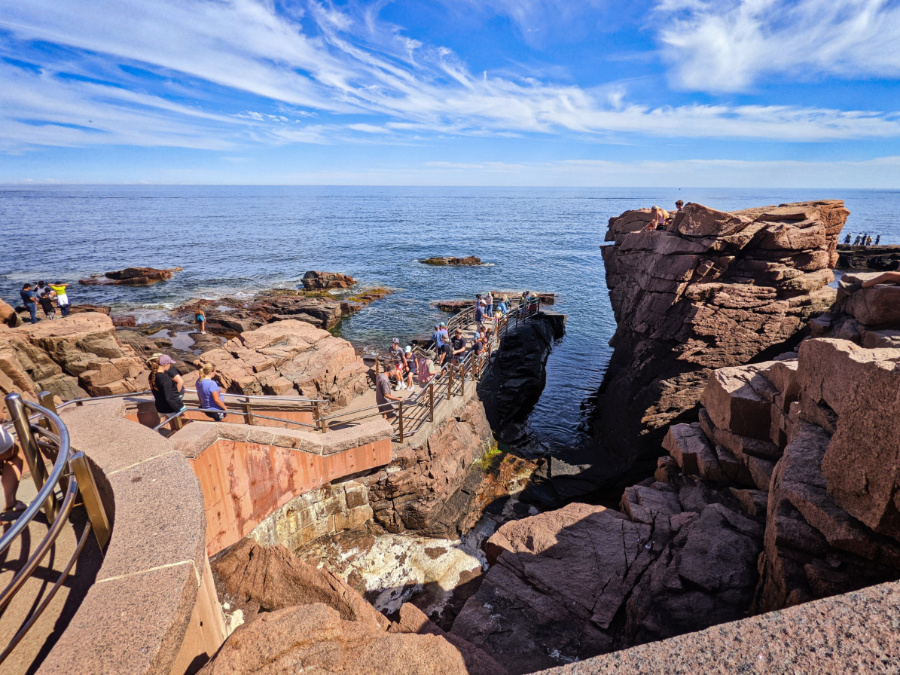 Beaches at Acadia National Park
Maine has so much beautiful coastline… and yet very few beaches in comparison to the amount of waterfront. Acadia National Park does have quite a few beaches though, which are great to visit in the summer. If you're like us, the beach in the off-season is pretty fun too, because that's when you can find some of the most interesting creatures and treasures.
Sand Beach
The closest of the Acadia National Park beaches to Bar Harbor, Sand Beach is also the best beach in Acadia. It's actually sandy and is ideal for a fun afternoon, including being able to relax at the beach. Sand Beach is also the starting point for the Ocean Path, which is a hiking trail going along the eastern coast of Acadia NP. Check out hikes and more things to do in Acadia NP here!
Somes Sound Beaches
Located between the two portions of Mount Desert Island, Somes Sound is great for kayaking or mooring a boat for the afternoon. There are also a few beach access spots here. The easiest Acadia beach to get to is Suminsby Park, with parking and easy water access. There are a few other small access points, but they either are at the end of hiking trails or only accessible by kayak. We do not encourage people to blaze their own trails to the beach, especially because this part of the island has a lot of privately owned property.
Seawall Beach
Located on the south side of the western half of Mount Desert Island, Seawall Beach is gravely and fun to explore. There is a parking area and picnic area, so if you don't want to be in the water but just enjoy from a distance, that's an option here. Seawall Beach is very near the Bass Harbor lighthouse, so if you're coming from the scenic drive portion of the park, you can easily add Seawall Beach to your stops.
Hunters Beach
This is much more of a rocky cove than a beach to relax on, but since you'll see it on a map and think it's a great spot to get in the water, better to share more info here and save you some time. Yes, you can walk directly into the water but the stones are larger than a gravel beach and you may bang your toes up quite a bit. This is a great spot for seeing some small tidepools and looking for hermit crabs.
Beachcombing at Acadia National Park
If you don't visit a lot of National Parks, you may not be familiar with the policy and practice of not removing natural objects from the parks. This goes for shells, driftwood, rocks, creatures… If you're beachcombing in Acadia National Park, do not take anything with you. Put it back where you found it. Never use force to remove anything. Replace animals where you find them.
Remember this:
Look with your eyes
Feel with your hands
Enjoy what you find
Put it back with the sand
Acadia from the Water
Besides the bulk of the National Park that's on Mount Desert Island, there are two other parts of the Park. The first is the Schoodic Peninsula, which is just east of Bar Harbor, and the other is Isle Au Haut, which is quite a ways southwest of Bass Harbor. Both part of the Park are accessible by passenger ferry. You'll find hiking, kayaking and general sightseeing in both places.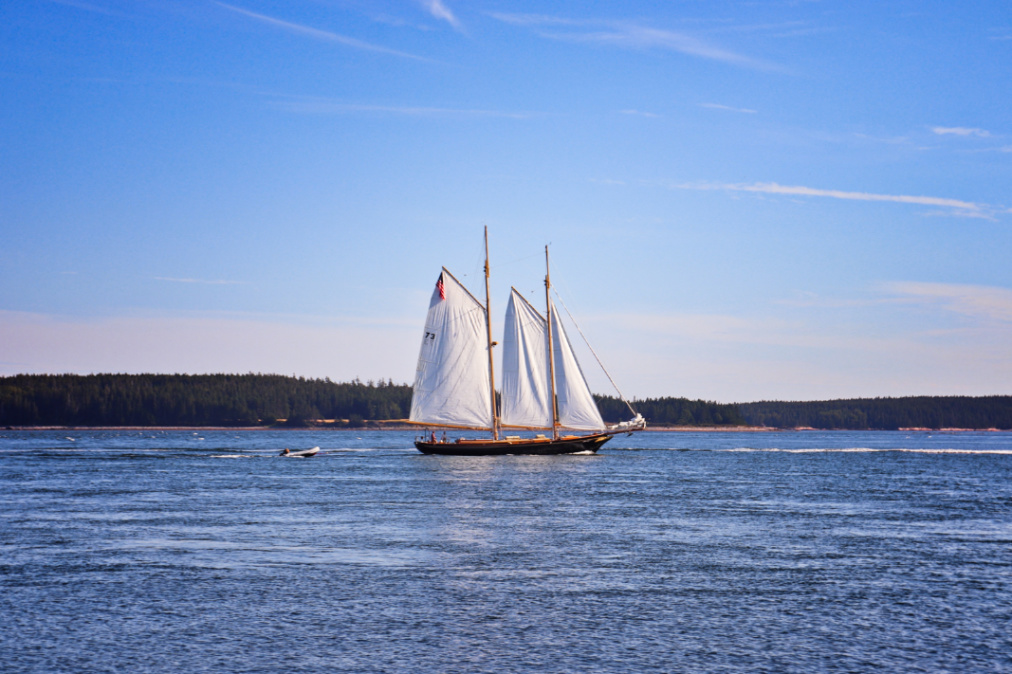 Kayaking at Acadia National Park
Some of my favorite photos of Acadia National Park include kayaks skirting the coastline or in the quiet coves of Somes Sound. There are a variety of options for paddling here, and you don't have to be an avid sea kayaker to be able to get on the water. Kayaking in Maine is as diverse as you can imagine!
Here are four great kayak launches you can go from to experience Acadia National Park from the water:
Check out guided sea kayaking by Maine State Kayak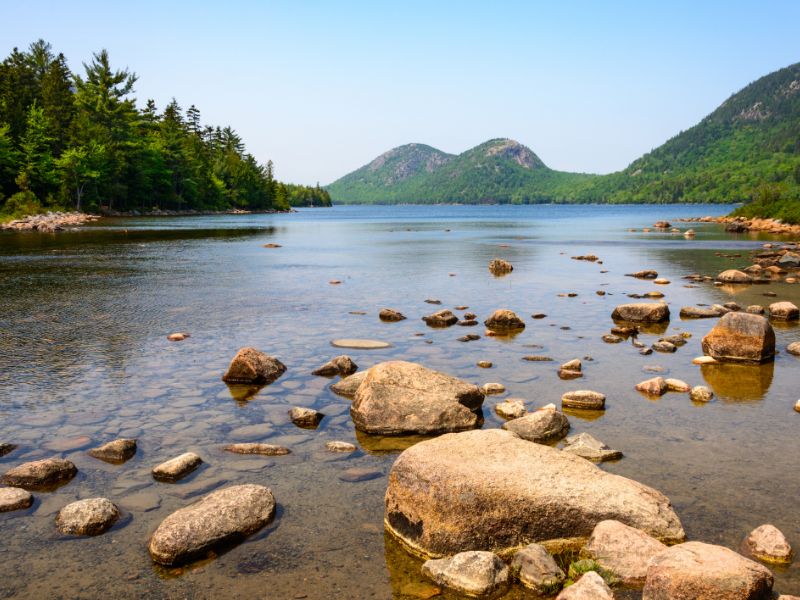 Boat Tours Around Acadia National Park
Going out of Bar Harbor, boat tours around Acadia National Park are plentiful in summer. Whether you want a small group tour from the water or you want to get out on a schooner like you're a 19th century sailor, you have lots of options out of Bar Harbor.
Keep in mind that if you're booking a boat tour out of Bar Harbor, they are very popular and the schooners that go out can hold a lot of people, so you may find them to be surprising crowded in summer months.
Book a Bar Harbor schooler sailing here!
If you have any additional ideas or questions, please leave a comment or send us a note. We love sharing the fun and beauty of Acadia National Park!